13 oz Vinyl Banner – Our standard vinyl banner. Digitally printed in full color, Vibrant and Durable.
15 oz or 18 oz Vinyl Banner – Heavier and more durable, and can be printed single or double-sided.
8 oz Mesh Vinyl – Not as vibrant as the 13, 15 or 18 oz banners but perfect for prolonged us in outdoor and windy conditions. 
9 oz Premium Polyester
(Fabric) Banner – Ideal for soft signage and interior decoration. 100% Polyester and wrinkle-free.
17 mil. Artist Canvas – Perfect for wall decor. Looks great mounted or framed. Lightweight polyester/cotton matte. Mounted with stretch bars for an additional cost. (36″ x 36″ max mounting size)
Pole Banner – Full color printed, single or double-sided on vinyl and finished with pole pockets and grommets. Come with a kit including all mounting hardware.
Retractable Banner – Full color printed on our 13 oz. vinyl and mounted into a retractable banner stand. Ideal for indoor use and set up and take down in seconds. Carrying case included for ease of transportation.
Tabletop Banner – A smaller version of our retractable banner ideal for tabletop or counter-top use.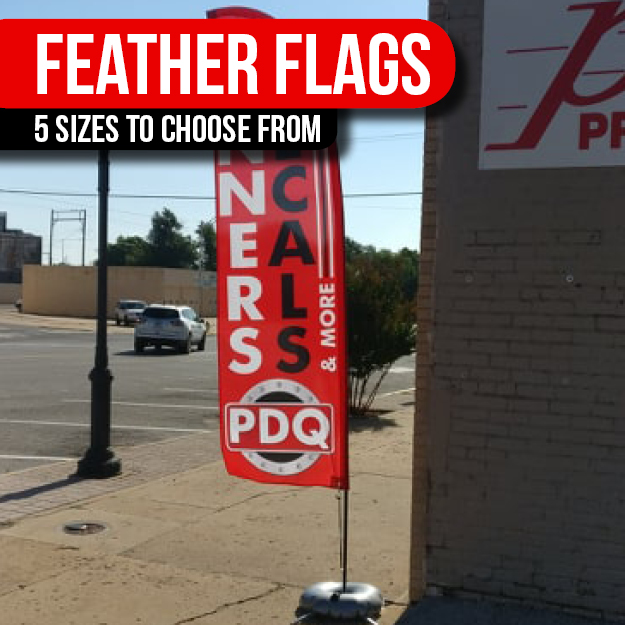 Feather Flags – 3 oz. polyester fabric flag printed using direct to fabric die. Ideal for advertising businesses, events and trade shows. Available in 8′, 10′, 12′, 12′ jumbo and 15′ heights. Pole kit including a cross base with water bag for indoor use, or ground stake for outdoor use available for an additional cost. 
Teardrop Flag  – Similar to the Feather Flag but teardrop-shaped. Available in 7′, 9′, 11′ and 14′ heights.
Pole Flag – Printed on 3 oz. Polyester and have a canvas reinforcement strip with 2 grommets on either the left or the right side. Available in 2'x3′, 3'x5′ or 4'x6′ sizes. Pole and wall mount kit available for an additional cost.