Brochures – Brochures are a great way to showcase your products and services. Vibrantly printed on a high-quality paper or lightweight card stock. Our wide range of size and folding options helps us to make sure we have the right brochure for your needs.
Sales Sheets & Flyers – A great option for when you want to keep the same professional look but don't have enough information to fill a brochure. Our sales sheets are printed single sided or double sided with the same stock options as our brochures, but left flat and trimmed down to whatever size is ideal for you.

Catalogs / Booklets – If you can't fit all the information you need to put in a brochure, then booklets are your best option. Booklets play two main functions: as an informative material and as a promotional tool. Our booklets are folded staple and even trimmed at the edges and can even have a heavier cover for a more complete look.
Rack Cards – A great way to show a lot of information in a small amount of space. Smaller than a sales sheet, rack cards are about the size of a folded brochure but are just a simple 1 or 2 sided card.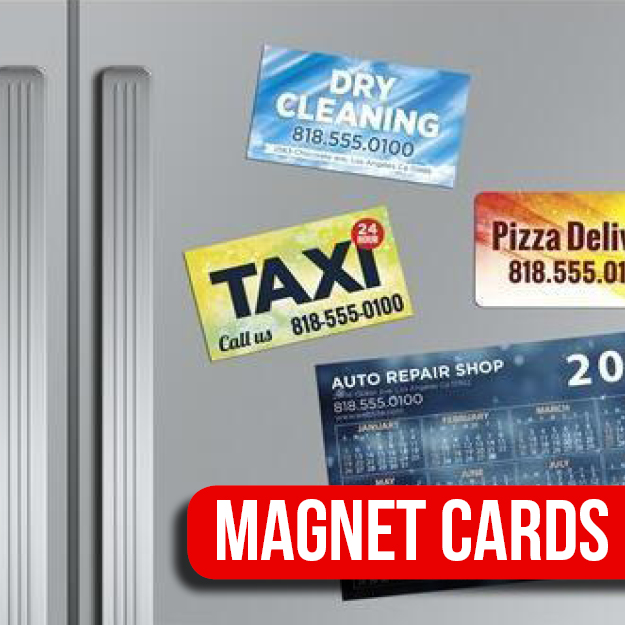 Business Cards– Reach new markets, maintain contacts and more with our premium quality Business Cards – one product that no business can survive without! Full color printed single or double-sided on a wide variety of stocks with numerous finishing options to give your cards the lasting visual impact you are looking for.
Appointment Cards – Make your business cards serve dual purposes by adding an appointment card back, or just a single-sided appointment card.

Magnetic Business Cards – Magnetic Business cards serve as both magnets and vibrant business cards. Printed on a superior magnetic stock with a high quality long-lasting ink, Magnets are the ideal way to help ensure your business card doesn't get thrown away.
Business Forms – Business forms are an integral part of the operation of nearly every business.  They are used for everything from employment applications to receipt and order blanks and more.  You can have them customized to your shape and size needs, and all of our business forms come with the available option to have them consecutive numbered and perforated.
Single Part – Printed in color or black ink on your choice of white or colored papers.   Leave them loose or have them glued into pads. 
Multi-Part NCR (carbonless) – Printed in color or black ink on 2, 3, 4 or 5-Part 20lb NCR. Leave them as loose individual forms or stapled into books with wrap around covers to prevent you from writing through more than one set.  Optional protective tape binding and custom printed front covers.

Security Paper – Used for items that you don't want copied like cash vouchers and prescriptions. Once a job is printed on security paper, if somebody tries to make a photo-copy of it a "VOID" OR "RX VOID" pattern will appear across the sheet rendering the copy useless. Security paper is available in single or 2-Part NCR paper. 
Letterhead– Letterheads are perhaps one of the most used tools in every business. Any transaction that requires written documents such as sending mail, office memos, product handouts, and sales sheets are opportunities to increase brand awareness. Put your personalized design on your choice of stock and pair it with a matching envelope for a truly professional look.
Envelopes – We have a large selection of envelopes to serve a wide range of purposes. From #10 and #9 envelopes to smaller envelopes for checks and offering envelopes. And if you are mailing something bigger like booklets or special packets we have bigger envelopes like 9×12 and 10×13 envelopes.  All of which can be full color printed to fit your custom needs.

Notepads – Have your notepads printed on the paper of your choice. Custom sizes are available. You can also choose among 25, 50 or 100 sheets for your pads. Printed in black and white or color they are a great solution for in-house scratch pads, an inexpensive marketing tool to that can be give out at events.
Sticky Notepads – While sticky notepads have slightly fewer shape and size options, sticky notes are a great choice to keep track of important dates and information or pass around at events, conferences and more. These self-adhesive sticky notes are versatile and easy to stick and remove without damage. Available in 25 or 50 sheet pads

A self-inking re-inks the rubber die into the self-contained ink pad before each impression, making it ideal for quick, repetitive stamping during those busy workdays. A clear base on the mount allows you to easily line up those impressions. Whether you need a signature, a logo, a notary stamp or even a dated stamp we have the shape, size and design of stamp for you.
Price Tags / Hang Tags – If you are in retail and sales, you may need price tags. Cardstock full color printed on one or both sides, with pre-drilled holes to hang them by.
Equipment Tags – Superior-quality equipment tags and maintenance tags for multiple uses. Thick cardstock with reinforced eyelets ideal for rough handling. Hanging wires available on request.